With its launch, the Superhawk 55 from Sunseeker marks a remarkable return to the open-cruiser market for the brand, as it is the first completely new Superhawk to be introduced in over ten years. Here we take an in-depth look at this exciting new yacht, that represents a bold new model for this manufacturer.
VESSEL OVERVIEW
First a bit of history. The Superhawk line was discontinued by the manufacturer in 2009, but this newer version of the original boasts a taller, wider and more opulent design that is likely to attract the attention of those interested in comfortable day cruising and shorter coastal excursions.
The new 2023 Sunseeker Superhawk 55 definitely caught my eye at the Miami International Boat Show last month, it's a high-performance vessel with sleek lines and a sporty profile that is perfect for luxury coastal cruising. There's no denying that there's something so "James Bond" about this boat! While the Sunseeker team refers to it as a "dayboat" due to its open layout, the luxurious Superhawk 55 is definitely a yacht and she measures 17.3 meters (56 feet) in length with a beam of 4.6 meters (15 feet). She can accommodate up to 6 guests and has a crew capacity of 2 people. The interior is designed with a modern and stylish look, featuring a comfortable salon area, fully equipped galley and three cabins with en-suite bathrooms.
ENGINES AND PERFORMANCE
The Superhawk 55 is powered by twin 900-HP MAN diesel engines that can propel it to a top speed of 38 knots and comfortable cruising speeds between 30032 knots. The engines are coupled with Arneson surface drives, which provide better performance and handling than traditional propellers. Because of this, the yacht is capable of reaching those top speeds with relative efficiency.
The Superhawk 55 is designed for high-performance, luxury cruising and its engines and propulsion system provide excellent acceleration, maneuverability and stability. The vessel's deep-V hull design, combined with its powerful engines and surface drives, make it an ideal vessel for exploring coastal waters.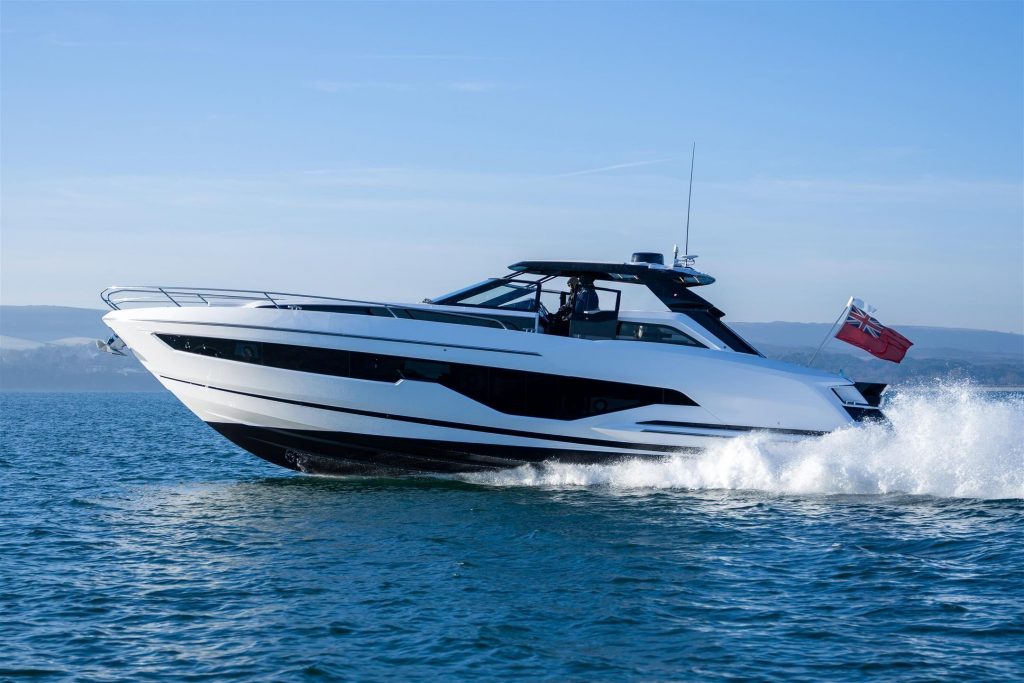 HELM STATION
The helm station on the Sunseeker Superhawk 55 is designed to provide the captain with excellent visibility and easy access to all the yacht's controls and navigation equipment. Located at the front of the cockpit area, the helm station features a large console with a racing-style steering wheel, electronic throttle controls, and a range of gauges and displays. The console is finished in carbon fiber, adding to the yacht's sporty and luxurious look. The helm station is equipped with advanced navigation equipment, including GPS, radar, and autopilot systems. It also has a VHF radio, a depth sounder, and a speed log, providing the captain with all the information needed to navigate safely and efficiently. In addition to the helm station, the cockpit area also features a second set of controls, which are located on the port side of the yacht. This allows the captain to operate the yacht from either side, making docking and maneuvering easier in tight spaces.
STERN AND TRANSOM
The stern of the Sunseeker Superhawk 55 is designed to be both stylish and functional. It features a low profile and a steep angle that creates a sporty appearance and enhances the yacht's performance by reducing drag in the water. The stern is also equipped with a large swim platform that provides easy access to the water for swimming, diving, and other water sports activities. The transom of the Sunseeker Superhawk 55 is also designed with functionality in mind. It features a hydraulic garage door that opens to reveal a tender and a jet ski, which can be easily launched and retrieved using a hydraulic lift system. The transom also has a built-in swim ladder that provides easy access to the water, as well as a hot and cold shower for rinsing off after swimming.
AFT DECK AND COCKPIT
The aft deck of the Sunseeker Superhawk 55 features a U-shaped seating area that can accommodate up to eight guests, as well as a teak dining table that can be raised or lowered using a hydraulic system. This allows the area to be transformed into a sun pad or a second seating area, depending on the owner's preferences. It also has a wet bar, which is equipped with a sink, refrigerator, and ice maker, making it the perfect place to mix drinks and socialize with guests.
The cockpit of the Sunseeker Superhawk 55 is the primary control station of the yacht, and it is located forward of the aft deck. It features two bolstered helm seats that provide a comfortable and secure driving position, as well as a full array of navigation and engine controls. The cockpit also has a large L-shaped seating area that can accommodate up to six guests, making it a great place to relax and enjoy the views while underway.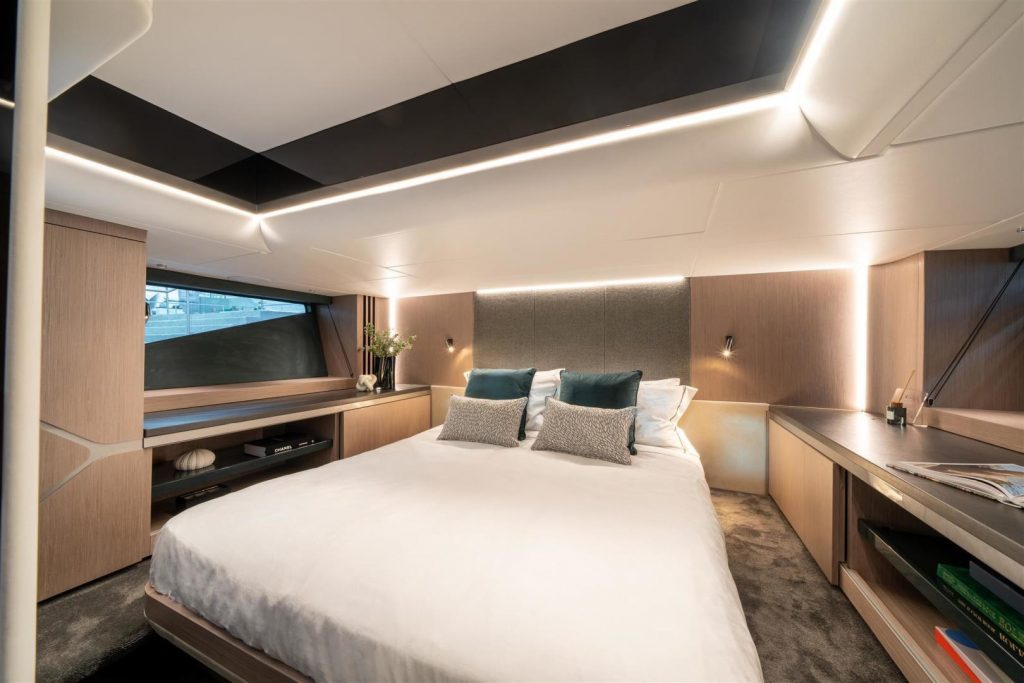 AMENITIES
In terms of amenities, the Superhawk 55 has a great sunbathing area on the bow, a large swim platform, a wet bar, and an outdoor dining area. The yacht features two luxurious cabins that can accommodate up to four guests. The master cabin is located in the bow of the yacht and features a double bed, ensuite bathroom, and ample storage space. The guest cabin is located amidships and features twin beds, an ensuite bathroom, and storage space.
There's also a state-of-the-art entertainment system that includes a flat-screen TV, DVD player, and stereo system with speakers throughout the yacht. The yacht's galley is located on the lower deck and is equipped with modern appliances such as a refrigerator, freezer, microwave, and stove. The Sunseeker Superhawk 55 also features a climate-controlled interior with air conditioning and heating systems that provide a comfortable environment for guests regardless of the weather outside.
Overall, with its fresh, sleek appearance, the updated Superhawk 55 model offers a contemporary take on the original Superhawk line.
Specifications:
LENGTH OVERALL: 56' 2" 
BEAM: 16' 2" 
DRAFT: 4' 8" 
DISPLACEMENT: 57,500 LBS. 
FRESH WATER CAPACITY: 114 US GAL. 
BLACK WATER CAPACITY: 39 US GAL. 
FUEL CAPACITY: 476 US GAL.
View Superhawk 55 yachts for sale on YachtWorld today
Related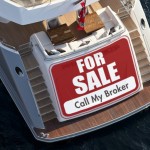 Navigating VAT Taxes When Buying a Yacht in Europe
Have you found your dream yacht in Europe? Here's what you need to know about the VAT, which can add...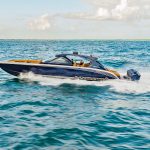 Mystic Powerboats M5200 Walkthrough Boat Review
Full walkthrough video review of a Mystic M5200 Powerboat with John Kosker.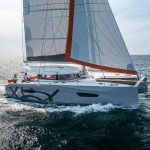 2023 Excess 14 Sailing Catamaran Boat Review
Zuzana Prochazka says the Excess 14 is a sailing cat that's turning heads.