​​Buying a New Boat Vs Buying a Used Boat: The Pros and Cons
Grab your captain's hat as we navigate the choppy waters of the boat-buying world to weigh the pros and cons of buying a new boat versus a used boat. There are a number of things to consider when you're deciding if you want to be the captain of a sparkling new ship or take the helm of a seasoned seafarer. Either way we'll be your first mate to help you to make the right investment decision. Let's get started!
Reasons To Buy A New Boat
Zero Compromises
When you buy a boat from a boat dealer, it's a blank canvas, and you can get it made entirely bespoke, suited to your needs. Choose your preferred layout, interior furnishings, power options, and technological features you want on board. Some boat builders will let you customize the hull design and color too. A boat is an expression of who you are, and selecting the finer details is a fun part of the buying process. 
Shiny and New
The smell of a new yacht is similar to the fresh scent of a new car. When you buy a brand new yacht from a dealer or licensed yacht broker, you will be the first owner of the vessel, and everything onboard will be in immaculate condition. 
Warranty
New boats come with a manufacturer's warranty to give new boat buyers the comfort of mind. You can benefit from reduced maintenance and service expenses, typically over the first year and sometimes covering up to three years, providing financial protection in case of a breakdown.
A More Enjoyable Buying Experience
Buying a new boat is generally enjoyable since less risk is involved. The negotiation process is generally less exhaustive since there are no surveys, haulouts, or engine inspections to complicate the process. There is usually less travel involved, too, since most new boat models have dealers in localized areas, and they tend to include delivery in the cost, unlike used boats which you can end up traveling a long way to visit.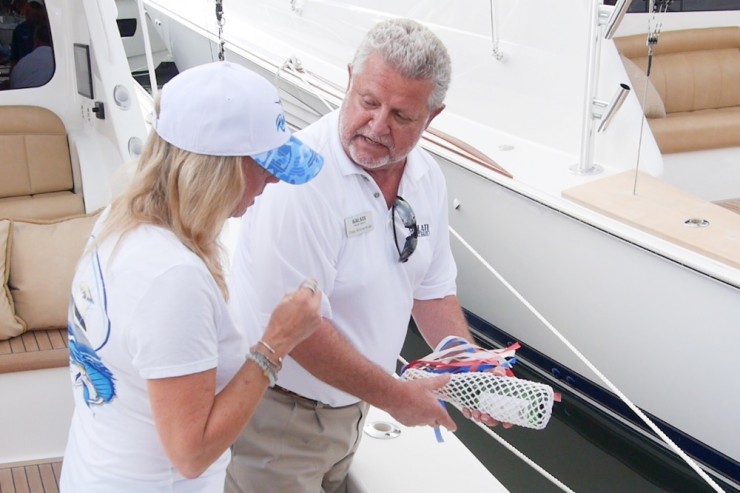 Above: Building strong relationships with customers is a favorite activity of Stan Hoynowski, one of Galati's sales professionals. Image via Ed Kukla photo.
Reasons To Buy A Used Boat
Budget-friendly
If you are considering buying a boat over ten years old, you can pick up a bargain. Make sure you get a marine survey before agreeing on a cost since they will be able to identify problems and issues you cannot spot with your naked eye. 
Less Depreciation 
New boats depreciate significantly during the first year of ownership since most of the devaluation has already occurred. As a general rule of thumb, new vessels lose around 40-50 per cent of their initial value over the first 8-10 years, with approximately 20-25% of that being lost in the first two or three years. Once a boat is a decade old, depreciation generally slows to less than five per cent annually, meaning it will retain most of its value. 
Time-tested/Reviews
The internet is an excellent research tool, and it's worth doing a deep dive, sifting through historical reviews of the model and manufacturer that you are considering buying. You will soon find out if there are any significant issues with the boat model. 
Less Worry
Going out on a boat with a few dents and scratches reduces your stress levels because there is less pressure on keeping it in mint condition. Accidents happen, and the likelihood is that you or somebody else will have a bump and damage it at some point, but that is just life! 
Buying New and Used Boats
Find the world's largest selection of brokerage boats for sale by professional yacht brokers with new, used, sailing, power and superyachts for sale. Find used and new boats for sale on YachtWorld today.
Related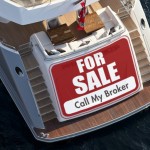 Navigating VAT Taxes When Buying a Yacht in Europe
Have you found your dream yacht in Europe? Here's what you need to know about the VAT, which can add...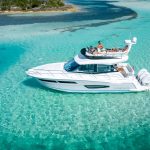 Yacht Designs And Boat Hull Types
A deep dive into all the different types of yachts, from pocket yachts to superyachts and everything...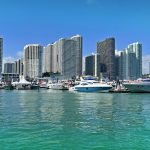 MIBS 2023 Boat Debuts & Show Guide
The hottest boating event of the winter is here, the Miami International Boat Show (MIBS) 2023!