Calling all anglers! If you're in the market for a boat that's built specifically for fishing, then you're in luck – because fishing boats are designed with one thing in mind: catching the big one! Back in the day, fishing boats were pretty basic – with no frills or fancy features to distract from the main event. But times have changed, and boat manufacturers are now creating vessels that blend the best of both worlds – think luxury amenities AND all the fishing bells and whistles you could dream of. From rod storage to rocket launchers, livewells to fish boxes, and even tackle stations, these boats have got you covered. So, whether you're looking for a budget-friendly option or something a bit more high-end, we've got you covered with our guide to the different types of fishing boats on the market. Get ready to reel in your next trophy catch!
Saltwater Fishing Boats
When it comes to fishing boats, there are typically two main categories: saltwater fishing boats and freshwater fishing boats. However, there can be some overlap between the two, as some boats can be used in both environments. It's important to keep in mind that not all freshwater boats are designed for the open ocean, though. So, whether you're planning a calm day on a lake or an adventurous trip on the ocean, make sure to choose the right boat for your needs. With that in mind, let's dive into the world of fishing boats and explore the different types that are available to help you make the best choice.
Coastal / Inshore Fishing Boats
Saltwater fishing boats can further be broken down into two main categories: offshore fishing boats and inshore fishing boats. The term inshore is a bit ambiguous and is often misused. Generally it refers to boats that stay within 1-3 miles of the coast (up to 10-20 miles in some regions) where the land is still in sight and can be viewed by either the naked eye or with binoculars. The terms inshore and nearshore are often used synonymously with each other and generally mean that the boat is staying relatively close to the shoreline. Inshore boats should not be confused with inland fishing boats – i.e. freshwater fishing boats that are designed for calm, land-locked waterways including ponds, rivers and lakes. Below are a few of the basic categories of inshore fishing boats:
Center Console Boats
Center consoles make great fishing boats due to the fact they offer 360-degree access to the water, thanks to the helm being contained on a centralized console (hence center console).
Bay Boats
Bay boats bridge the gap between smaller flats boats and skiffs used in skinny water and larger center consoles and sport fishing boats designed for open water.
Fishing Skiffs
Skiffs and flats boats are shallow draft fishing boats that come in a variety of models with some having a truly flat-bottomed hull, while others include various v-hull designs, often with a sharp v-bow that transitions back to a flatter surface near the stern. Flats boats characteristically have forward and rear decks that are flush with the gunwales of the boat, meaning there is no "lip" around the outside edge of the vessel. On some flats boats the entire top of the boat is one uninterrupted deck with the console mounted above and recessed cockpit (i.e. flat deck flats boats like NewWater's Ibis or Curlew models), although most have a small midship recessed cockpit with console and controls. By nature these boats are designed to be able to take some water over the gunwhales in the front and rear without the risk of swamping. That said, they are not design for large open water and running offshore.
Offshore Fishing Boats
Offshore fishing boats on the other hand refer to boats that travel more than 20 miles from the coast. These boats are equipped with advanced navigation systems, radar domes, overnight accommodations, greater fuel and water capacity and have a greater range than smaller day boats. They are designed to be able to handle the rigorous weather and ocean states that exist in the open ocean and have great seakeeping ability, by definition. They are virtually all self-bailing designs that incorporate bilge pumps (and sometimes ballast systems) along with hulls that have been designed to handle large swells, strong currents and choppy water. Oftentimes these boats have redundant propulsion systems (i.e. more than one engine) in case something breaks offshore, so they can return to land on only one engine. Traditionally these boats were powered by inboard engines that were protected from the elements, although in the last two decades, outboard powered offshore fishing boats (in the form of large center console fishing boats) have become much more popular.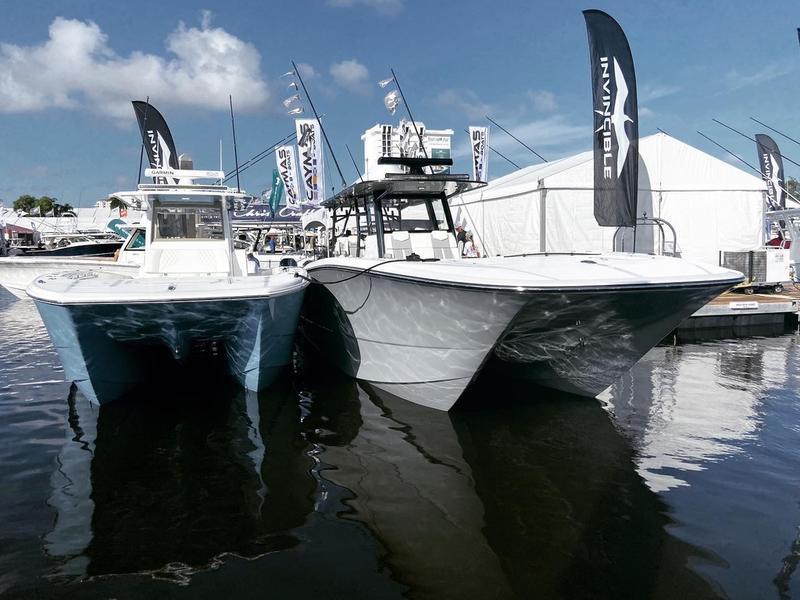 The InvisIble 46 catamaran. Twin 24-inch MFDs. Air conditioning pumps cool breezes over the open helm. Image credit: Invisible Boats.
Sportfishing Yachts
Sportfishing yachts are big offshore boats designed to be able to handle rough seas while keeping anglers and passengers aboard safe, dry and comfortable. They are often the envy of the marina with beautiful aesthetic lines, commanding towers with flybridge control stations, wide beams that make for huge aft casting decks and some nicely-appointed fine accommodations and creature comforts in the cabins down below. Sportfishing yachts are often referred to as simply sportfish or even sportfisherman. There are a variety of sportfish boats on the market from a range of builders, ranging from smaller sportfish in the realm of 30-40 feet including express-style sportfish boats and closed bow fishing boats with half towers and outriggers, up to larger sportfish yachts with full tuna towers and often multi-deck layouts including full flybridge control stations.
Big Center Consoles
Today's center console boats are getting bigger and bigger, making them more and more capable offshore fishing boats. The largest center console in the world, HCB's 65 Estrella, is in fact a wave crushing machine that can hang with some of the bigger sportfish yachts on the market when she needs too. Of course these boats don't offer as much protection from the elements, and naturally cannot have the same level of accommodations as their closed-bow counterparts, but they are nonetheless capable offshore boats. They are popular for day fishing tournaments and quick runs out to sea and back for targeting pelagic species, but not as popular for longer fishing trips and trips that require extended periods offshore. Fishing families may prefer the comfort of a true sportfish yacht over an open layout big center console.
Fishing-Friendly Cruisers
Cruisers, bluewater cruisers and smaller cabin cruisers are boats that have been designed more around comfort and livability than fishability, but there are models that bridge the gap and many cruisers are perfectly suited to some level of fishing from their aft deck. Walk-around cruisers have the advantage of offering the same 360-degree access to the water as center consoles, but with the added bonus of full-beam cabins down below. Overall, cruisers are good coastal cruisers that can be rigged and setup as more of a fishing platform with accommodations aboard, if desired.
Hull Shape And Design
As with any boat, a fishing boat's hull shape affects how she will behave while trolling. Bear in mind that a wider beam can make for more stability while trolling or anchoring up. A well-crafted hull that slices cleanly through water will provide you with a soft, dry ride, even in poor weather conditions.
Choosing your hull shape will depend on how you plan to spend your time on the water. Most modern boat hull shapes are based on one of these five basic hull designs:
Deep-V
Displacement
Flat Bottom
Catamarans / Multihull
Semi-V
Modified V
Pontoons / Tritoons
Read our guide, Yacht Designs and Boat Hull Types or Boat Hull Shapes, to learn more about the advantages and disadvantages of each hull design.
Which Fishing Boat Is Right For Me?
Whether you're new to fishing or have been hooked for a while now (see what we did there), many excellent fishing boat options are available. Narrow down your choices before you invest in buying a fishing boat by reading on to find out more about how to get the most from your fishing boat.
While technically you can fish on any boat, if you fish regularly, it's worth investing in a fishing boat that offers features and layouts specifically designed to make fishing enjoyable. All-purpose fishing boats generally include rod lockers, a trolling motor system, an outboard power, and livewells.
A Fishing Boat Fit For Purpose
Recreational fishing boats are designed not only to fish but also to relax and have a bit of fun while on the water. Weight, hull shape, and build strength affect a vessel's seakeeping abilities. When deciding on what type of fishing boat you want, a key consideration to bear in mind is the type of marine species you wish to pursue.
Where you are fishing will impact what size and type of boat you need. Fishing boats tend to be smaller; most measure under 20 feet in length, which means they cost less to purchase, operate, maintain, and store. Since they're less complex, they break down less often.
Freshwater boats tend to be smaller, as they don't need to be as seaworthy as a boat designed for saltwater. But even some of the smallest fishing boats are capable of big fish. If you're planning to fish offshore, you will need a battlewagon or something more substantial in size to make sure you ride those waves smoothly and safely.
If you plan to fish in sheltered waters, you need a boat that can deal with conditions up to a force 6 in waves 7 feet high. For more coastal or offshore fishing, you'll want a boat fit to deal in conditions up to a force eight and waves up to 13 feet high.
Range: Find Your Sweet Spot
Before buying your fishing boat learn about its range and its advantages and disadvantages before committing to a decision. Most freshwater anglers find they need a range somewhere between 50-100 nautical miles, and offshore game-hunters tend to need a higher range closer to 450 nautical miles to deal with hostile sea conditions. They generally travel further to chase fish and scour the best hotspots. Ideally, your boat will be capable of driving for ten hours. Bear in mind that weight onboard and motor size will also affect how efficiently your boat burns through fuel.
It's worth buying a boat once you know its optimum fuel economy numbers and realistic range. Knowing how far you can travel and how much fishing time you will get when you arrive at a fuel station is paramount to ensuring your fishing trip runs smoothly.
Trolling Speed And Engine Type
Which trolling speed is optimal for you depends on several factors, including the type of fish you are targeting, water conditions, and lure choice. There is no point in getting a powerful engine if you will spend most of your time pursuing salmon, trolling at low speeds.
Any angler knows that noise profoundly impacts a fish's behavior. Consider the noise your boat makes very carefully because the quieter it is, the better, particularly in shallow waters. Popular engines for fishing boats are four-stroke engines, which means that the piston completes four separate strokes while turning the crankshaft. Although they aren't the most powerful engines or even the lightest, they are comparatively quiet and fuel-efficient. When trolling, the sound of a low throbbing diesel or a quiet four-stroke outboard tends to draw more strikes close to the boat than a two-stroke engine does.
Electric propulsion is a great option for anglers because they are environmentally friendly and incredibly quiet, making for a more successful fishing trip and a more serene experience on the water. Torqeedo offers an extensive range of electric outboards which are lightweight, efficient, and requires minimal maintenance compared with a traditional motor.
A Guide To Fishing Boat Types By Size
Small Fishing Boats
Best For:
Small Fishing Boats By Type
Aluminum fishing boats 16 feet to 25 feet
Bass boats 16 feet to 25 feet
Bay boats 20 to 25 feet
Flats boats 14 to 18′ feet
Jon boats between 8 and 24 feet
Skiffs 15 feet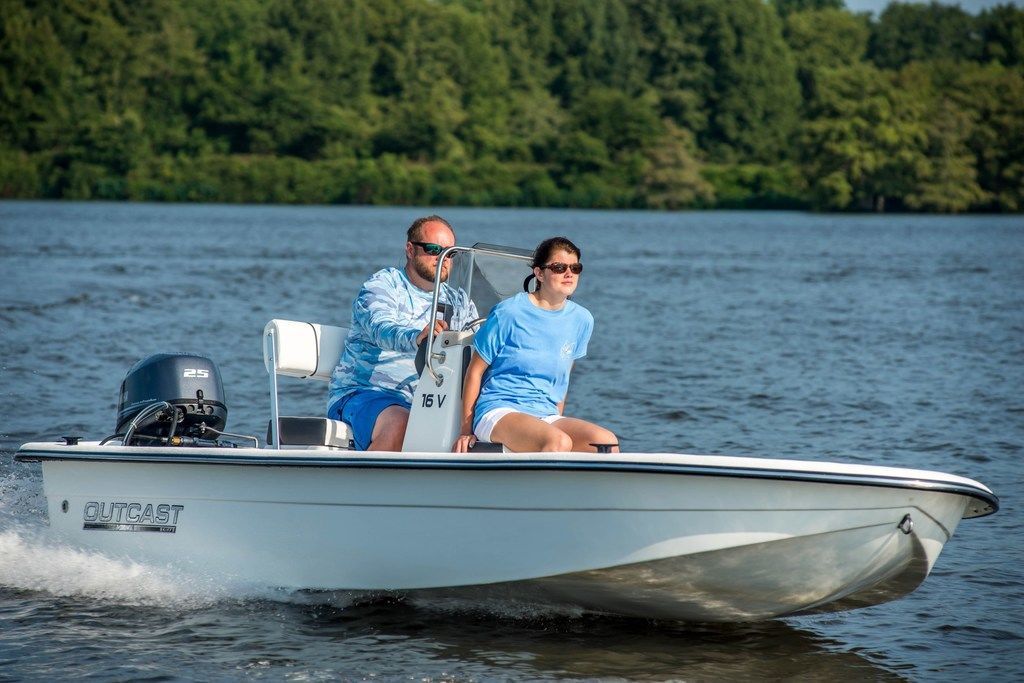 Medium Fishing Boats
Offshore
Inland
Sheltered waters
Medium Fishing Boats By Type
Center consoles 20 to 35 feet
Due consoles 20 to 35 feet
Large Fishing Boats By Type
Sportfish yachts 30 and 80 feet
Best For: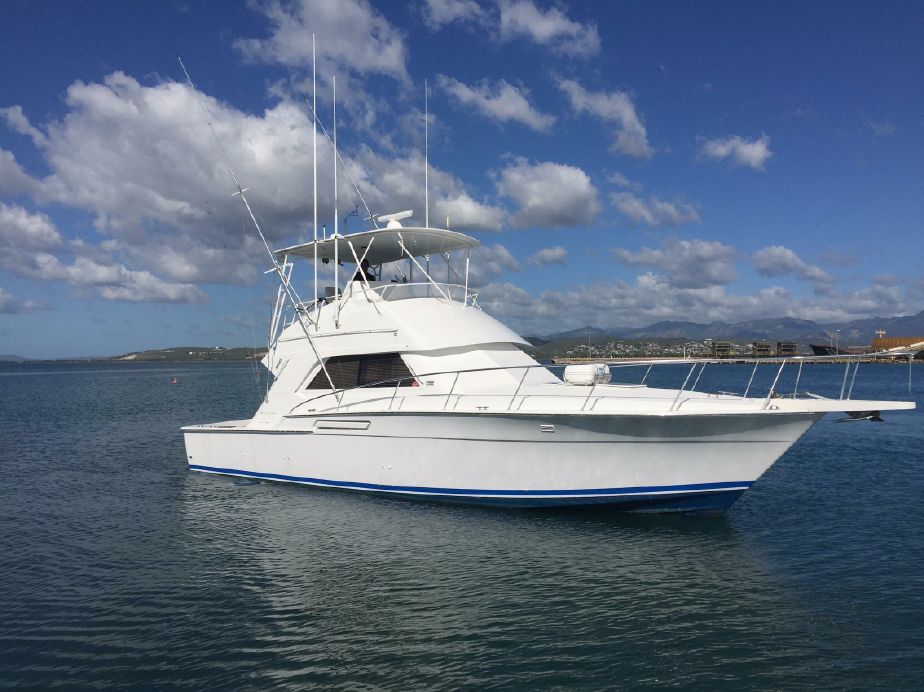 Judge A Boats Fishability
Look for boats with spacious layouts with lots of room to allow for a full range of movement. In terms of equipment, look for stainless steel rod holders that won't rust or break under the tension, aerated livewells, large fish boxes to protect your bait, and trophy catches. Also, consider outriggers for deep-sea trolling.
Budget: Reel It In – A Basic Pricing Guide
When considering your budget, keep a figure in mind and try not to stretch yourself beyond what you can genuinely afford. Many new fishing boat buyers get caught out by the actual cost of ownership. As a general guideline, the annual cost of maintaining a boat is usually around 20 percent of the boat's value, which factors in marina fees, maintenance, fuel, equipment replacement, upgrades and renewals, and insurance.
How Much Does A Typical Fishing Boat Cost?
As we've seen above, there are many different types of fishing boats, with a wide variety of prices. A relatively basic tin fishing boat will be between $20,000 and $26,000 brand new. However, if you're prepared to buy a used boat, you could pick up a decent boat for as little as $3,000.
On the other end of the spectrum, much larger boats and sport fishing yachts that are designed to target big game fish offshore, could net anywhere from $110,000 to well over $2,000,000 – especially one decked out with all the bells and whistles and fishing paraphernalia galore! Larger sport fishing yachts tend to hold their value well for years, since they are highly-engineered, customized machines that appeal to a very niche market of serious anglers. That means it is not surprising to find the price range stated above for not only new boats, but also used sport fishing yachts.
Most large sportfish yachts will include outriggers and center riggers, transom fish boxes, rocket launchers, bait boxes and freezers, Eskimo ice bins, rod holders, etc. Offshore boats are expensive to run because chasing game fish guzzles fuel. Also, bear in mind that bigger boats generally require more maintenance – as much as 20-30% of the purchase price per to crew, maintain and upkeep.
Editor's Note: This article was originally published in March 2022 and was last updated in April 2023.
Related
Motor Yachts: A Definitive Guide
Can you you tell the difference between a lobster boat from a sports coupe? Read on to become acquainted...
Mystic Powerboats M5200 Walkthrough Boat Review
Full walkthrough video review of a Mystic M5200 Powerboat with John Kosker.
Cult Classics EP. 3 – Lindell Yachts: Offshore Fishing Machines
A detailed history of iconic fishing boat builder Lindell Yachts.