Ah, the open sea! If you're looking to cruise the deep blue in a seaworthy, comfortable vessel, but you're also searching for a boat that's not too big to handle, then you might be in the market for a motor yacht. These beauties are typically between 35 and 85 feet long, which means they're perfect for folks who want something more substantial than a trailerable boat but aren't quite ready for a superyacht (yet!). While the definition of a motor yacht can be a bit fuzzy, all of these vessels come equipped with certain must-haves – like cozy cabins with all the amenities you need for extended trips, private sleeping quarters, and bathrooms with showers and toilets. And of course, no yacht would be complete without a kitchen (or "galley") and plenty of storage space for all your provisions, fuel, and water. Plus, you'll find high-tech navigation systems at the helm, perfect for cruising on the open seas. Last but not least, motor yachts have a common space called a "salon" (or "saloon"), where you and your mates can kick back, relax, and enjoy each other's company. So, are you ready to live like a sea-faring king or queen?
Different Types Of Motor Yachts By Size
Motor yachts come in many different types and sizes to suit different needs. Each motor yacht boat differs, and each has its advantages and disadvantages. We have provided a list to help you decide which type of boat is best suited to your needs. Find out more about pilothouses, sedan bridge yachts, flybridges, trawlers, sports coupes, and bridge boats. Let's take a look at motor yachts by size.
Trawlers
Pilothouse Yachts
Sports Coupes
Lobster Yachts And Picnic Boats
Flybridge Cruisers
Convertible Motor Yachts
Express Style Motor Yachts
Sedan Bridge Yachts
Sportfish Motor Yachts
Catamaran Motor Yachts
Trawler Motor Yachts
Typically between 40-80 feet
Trawlers are long-range boats that resemble commercial fishing boats but with the creature comforts and safety features of a private family yacht. They are the most popular type of yacht for long voyages because they maximize fuel efficiency, are extremely seaworthy and provide a great level of comfort and safety. Trawler yachts have full displacement hulls, well-appointed staterooms and a rugged appearance.
Built for cruising at slower speeds (generally under 10 knots), these boats are ideal for year round family adventures, liveaboard vessels, island hopping, ocean crossing and exploring the coast.
Key characteristics of trawlers include exceptional sea-keeping abilities, extended range, fully-featured interior cabins with appliances, fresh water and wastewater capacity, onboard heads (toilets) and galleys (kitchens). These features enables boaters to reach remote anchorages and stay for extended periods and even liveaboards. The most popular builders of trawler yachts are Beneteau, Grand Banks, Kadey-Krogen, Fleming, Offshore, Nordic Tugs and Ranger Tugs.
Pilothouse Motor Yachts
Typically between 35-65 feet
Pilothouse motor yachts feature a raised helm that stands apart from the rest of the interior cabin of the vessel. This helm offers better visibility thanks to a higher vantage point with big glass windshields, while providing great protection from the elements. The design also separates the helm more from the living space, salon, galley and staterooms, ostensibly cutting down the level of distraction for the captain from the passengers onboard.
This style of motor yacht caters to family or recreational use in all weather conditions. Marlow, Burger, Hampton and Offshore are well known for building raised pilothouse models ideal for family cruising. Pilothouse yachts may also have a flybridge layout, with a second helm position above the raised pilothouse, for fair weather operation. Their salons are typically full beam and they often have entrances on both starboard and port. Another notable characteristic is separate VIP staterooms with increased level of privacy, thanks to the multi-level layout and clever, compact designs.
Parker is highly recognized for making high-quality trawler yachts. The Parker 660 Weekend is ideal for families who want to spend weekends on the water all year round. The galley comes with a sink storage space, and there is room to install a refrigerator and a cooker. It also accommodates a separate cubicle with a sea toilet, a table to seat four, and a large roof window that provides natural light. The deck space is large enough to add a U-shaped bench, or you can use it for fishing purposes.
Other popular pilothouse boat builders include Bayliner, Grand Banks Yachts, Carver, Eaglecraft, MJM Yachts, and Aluminum Duckworth.
A sedan-style pilothouse cruiser deviates from a traditional flybridge cruiser because it has one central helm station situated forward of the salon. For family-oriented sedan cruisers, take a look at Osprey, Ranger Tugs, and Cutwater Boats.
Shop for new or used pilothouse yachts for sale on YachtWorld.
Sedan Style Cruisers
Typically between 35- 65 feet
Sedan style cruisers are mid-sized boats between 35 feet through to 65 feet with a low profile that fall under the motor yacht category, though they often are referred to as just yachts. They tend to have a good amount of outdoor area in the aft deck and the low exterior roof lines contribute to excellent stability and seaworthiness. They only have one deck level and do not have flybridges or multi-deck living areas.
Sport Coupes
Sport coupe yachts are instantly recognizable, defined by their sloping windows and truncated roofline, stylish hardtops, and skylights. Sport coupe cruisers are designed with powerful and efficient engines, elegant and modern lines, comfortable accommodation, and plenty of space for entertaining and socializing. These boats are also fast, and thanks to modern and efficient power plants, they tend to top speeds over 30 knots. Sports coupes feature swim platforms that lower to provide access to the water. Side decks are another common feature of sport coupes with a wide beam.
Typically between 35- 60 feet
Shop for new or used sports coupe yachts for sale on YachtWorld.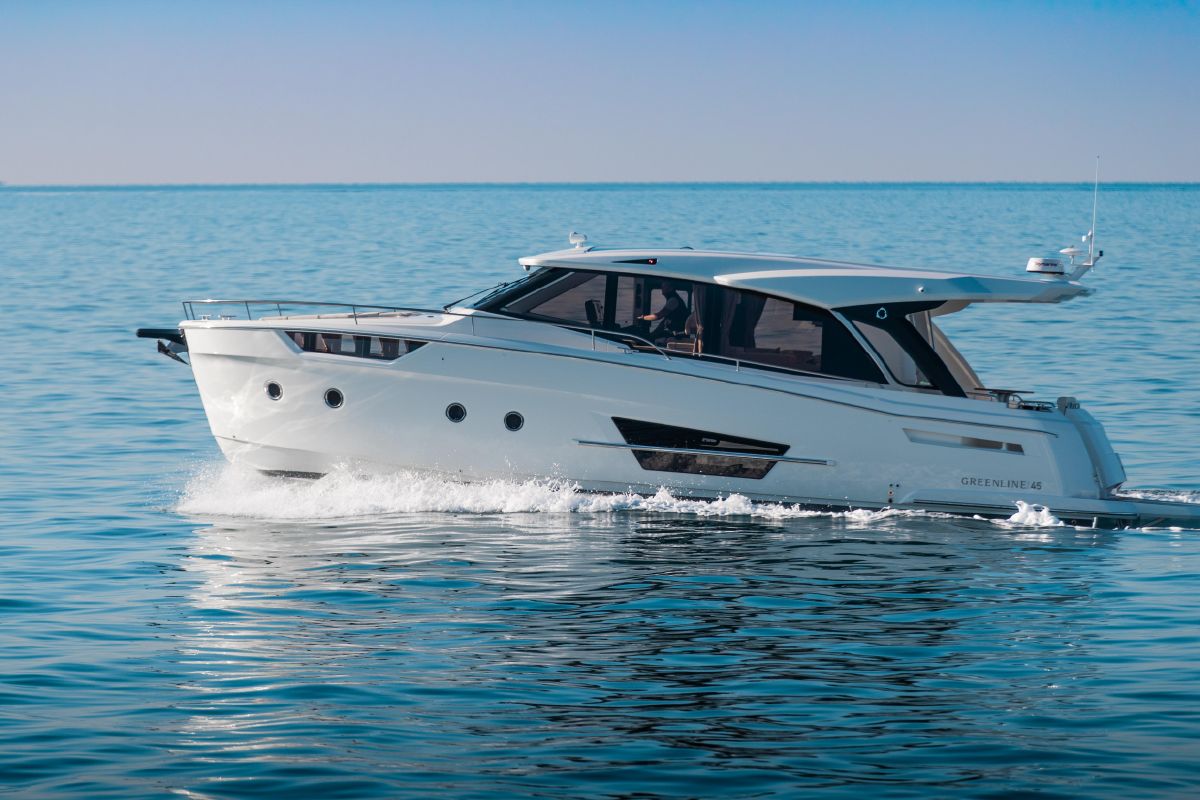 Lobster Yachts And Picnic Boats
Typically between 35- 55 feet
Modern downeast-style boats (or "lobster yachts") and so-called "picnic boats" are bang on trend and ideal for getting under bridges due to their lower air clearance. The downeast styling originates from Maine's iconic commercial lobster boats when fishermen needed space on deck for handling pots and a boat that can reach high speeds to get their fresh catch back to a local market as quickly as possible. There are a number of brands that have emulated the Maine fishing boat aesthetic—take a look at Back Cove, MJM, San Juan and Grand Banks.
Shop for new or used lobster yachts and picnic boats on YachtWorld.
Flybridge Cruisers
Typically between 40- 80 feet
Multi-deck and tri-deck motor yachts have an elevated center of gravity. Fans of flybridge cruisers are happy to compromise a bit on the sport look in order to gain additional space, versatility and expansive views provided by the flybridge (sometimes referred to as the sky deck, bridge or upper helm station). All true flybridges include a second helm above the lower helm that allows the captain to steer the boat with 360-degree visibility. Depending on the yacht's size, a flybridge boat can include a summer kitchen, a wet bar, al fresco dining areas, and lounging areas on the upper deck to entertain guests.
Many motor yacht builders that construct flybridge cruisers offer models in express boat versions and flybridge model versions, also commonly called convertible boats.
Shop for new or used flybridge cruisers on YachtWorld.
Convertible Motor Yachts
Typically between 40- 80 feet
The distinction between the aforementioned classes of flybridge cruisers can blur, but convertible boats generally have a flybridge above with ample seating for guests and forward living quarters below. Convertibles are typically set up as dual purpose cruising and fishing boats, while the previously mentioned sports coupes are more for cruising.
Express Style Motor Yachts
Express style motor yacht boats are laid out more for sport fishing with the focus of the cockpit being on plying the waters for fish. This is where the line between a sport fishing yacht and a motor yacht can blur though, as many express style motor yachts fall into both categories.
Sedan Bridge Yachts
Sedan bridge boats are a blend of the sportfishing yachts and cruisers mentioned above, but without the emphasis on fishing. Sea Ray made the name famous with their Sedan Bridge model line, featuring the Sea Ray 400, 480, 550, 560 and 580 sedan bridge models.
These boats have a wide family appeal thanks to their multifunctional layout. The flybridge is used as a balcony overlooking the water, and there are social areas, cooking facilities and enough rooms to cater to overnight cruising. Some of the larger yachts can even be converted to liveaboard yachts. Sedan bridge yachts are the most common type of motor yacht, and it's not difficult to see why. Its hull type is either a Vee, or a deep-vee to allow the yacht to reach high speeds and plane on the water while remaining steady in choppy sea conditions.
In terms of propulsion, sedan bridge yachts are run using an inboard engine or a stern-drive engine. If topping high speeds is top of your agenda- you should give this a miss because sedan bridge yachts are made for entertaining and taking long trips rather than topping fast speeds.
Shop for new or used sedan bridge cruisers on YachtWorld.
Sportfish Motor Yachts
Typically between 30-70 feet
Sportfish motor yachts are seaworthy vessels designed specifically for offshore fishing for serious anglers who want to target large game fish, such as tuna and marlin. The tuna lookout tower gives anglers an edge, helping them to spot swells of tuna, but unless you use it regularly, it's not worth investing in. The tuna tower is expensive, and it elevates the boat's gravity.
Passengers ride aboard in luxury, accommodation is comfort and style. Large sportfishing yachts are commonly referred to as 'battlewagons'.
As outlined above, convertible yachts offer a dual purpose design to allow for easy fishing from the yacht and luxury cruising experiences for passengers onboard. Popular sportfisher boat builders include Hatteras, Viking Yachts, Bertram, Sunny Briggs and Cabo Yachts.
Shop for new or used sportsfish yachts on YachtWorld.
Catamaran Motor Yachts
40 feet +
Big catamaran yacht design has undergone significant development over the past decade thanks to the ever-growing popularity of luxury powerboat catamarans. Firstly, the two-hull structure doubles the recreational space compared with a monohull of a similar size.
Thanks to the broader deck and living spaces catamarans make great liveaboard yachts. Particularly as catamarans are bright and airy since the living space sits above the waterline.
If you suffer from seasickness catamarans are a good option because their wide beams provide smooth sailing, reducing the rocking motion on board. Smaller power cat yachts are angled at fishing (see what we did there), while larger cats are used as bareboat charter and cruising platforms. Finally, the shallow draft makes it ideal for cruising tropical waters.
Shop for new or used catamarans for sale on YachtWorld.
Advancements In Motor Yachts Construction
Motor yachts have a variety of construction options, including some with full-displacement hulls which are extremely seaworthy, and other models with planing hulls ideal for reduced resistance and increased speeds.
Motor yachts are typically made of fiberglass, aluminum, or steel as they need to be capable of holding up to extended trips in saltwater. Carbon fiber models, known for their lightweight qualities are becoming increasingly popular as boat buyers look to conserve fuel usage to help to reduce their carbon footprint.
Yacht Design Innovation
Biophilic Design
The principles of biophilic design have taken marine design by storm. As a result, we are seeing advances in glass techniques and designers are using glass at every opportunity to increase natural light providing passengers with visual freedom. Refraction glass, skylights, full height windows, glass screens, sliding doors provide uninterrupted views, connecting passengers to the natural world, allowing natural light to flood into the vessel.
Reclaimed Materials: A Circular Lifecycle
Recycled, and reclaimed materials are becoming increasingly popular in the marine industry. Cork is being applied instead of teak, which is great not only from an environmental impact, but also for its functionality. When it's hot outside it doesn't get warm.
Semi-Custom Yachts Vs. Fully Customized
Motor yachts can be bought either fully customized or in semi-custom designs. Semi-custom production yacht builds are more likely to be built on time and on budget. Prototypes have already been tested and the characteristics and performance are very well known eliminating the risk for anything to go wrong. Fully customized boats are completely unique, and you will have full control of the design, so although the overall cost is more expensive, you won't be paying for any features that you don't want.
Living Aboard Motor Yachts
For a solo nomad, the ideal size sailboat to live on would be 35 feet for most people. However, if you are planning to live aboard a boat with a family, you will need a boat between 45-50 feet. Any boat below 35 feet would be too cramped for living, and you would quickly get cabin fever. If you want creature comforts such as a washing machine, dishwasher, freezer, or stand up shower you will need a yacht which is at least 40 feet. Bear in mind though that weight will make your yacht less efficient, so consider what you really need and prioritize.
Before you decide to make the leap to live on a motor yacht, bear in mind that lots of marinas have long waitlists for a liveaboard slip, and they cost double a regular slip. Some marinas only allow you to sleep abroad two nights per week.
Tank Storage
If you're planning on being in remote anchorages or going on long voyages offshore, then a large tank size may be high on your priority list. However, if you're planning on living on board your boat close to a marina then you don't need your tanks to be large- you can walk to the marina and fill up when needed. Consider what size water, fuel and holding tank you will need for the types of journeys you intend to do.
Fuel Capacity
Carefully consider fuel capacity. If you want to embark on long voyages, you will need a fuel tank that is bigger than 30 gallons.
Range
Again, the range you need depends on how you want to use the yacht, but we would advise getting a high range, with a minimum of 400 nautical miles and up to 1500 nautical miles. After all, there isn't any point living on a yacht if you only stick to one area!
How Many Staterooms Do I Need To Live Aboard?
Privacy is something to relish while living on a boat. When you are sea trialing a yacht, you are more likely to pay attention to its performance in the water, but pay attention to how well concealed the cabins and internal areas are. After a couple of weeks of living on a yacht you will soon get tired of hiding away from passers by. You will need at least one or two staterooms onboard. Even if you're a solo traveler, life on a boat can get very lonely so it is worth having a spare room to enable you to share your adventures with a kindred spirit.
Which Motor Yachts Are Better Suited To Onboard Living?
Catamaran's are a popular choice for boaters who want to live aboard a yacht because the living areas are spacious. The only way to work out what yacht is best suited to your needs is by getting on board and having a poke around.
Different Types Of Engines On Motor Yachts
Motor yachts are powered by inboard engines, powered by gasoline or diesel. Some newer models come with pod drives, a marine propulsion system where the gearbox and drive are mounted beneath the boat in the water. Some boat buyers prefer to choose a high-performance model while others will pick a more efficient engine to save fuel on longer journeys.
Add-On Equipment Available for Motor Yachts
Most models come standard with high-end navigation, marine appliances, and entertainment systems. However, if you want to upgrade you can add-on premium satellite systems and performance engines.
Motor Yacht Pricing
YachtWorld sells new and used motor yachts listed for an assortment of prices ranging from $22,000 all the way up to $504,000,000 depending on size, year, and model.
Budgeting For A Motor Yacht
Lots of new boat buyers get caught out by the true cost of ownership. As a general rule of thumb, the annual cost of maintaining a boat is usually around 20 percent of the value of the boat. Keep that figure in mind when considering your budget.
Which Power Yacht Is For You?
Now that you know more about power boats, you are ready to sea trial some yachts in your shortlist to see which type of yacht, and finally which model is for you. Before you put a dent in your bank account make sure you sea trial before you buy! For new boat buyers, you might learn a few hints tips along the way by reading A Diary of a New Boat Owner or A First Time Boat Owner: 8 Lessons Learned
Editor's Note: This article was last updated in April 2023.
Related
Fishing Boats Guide: Tackling The Basics
A guide to help you choose a fishing boat that's right for your style of angling and waters.
Cult Classics EP. 3 – Lindell Yachts: Offshore Fishing Machines
A detailed history of iconic fishing boat builder Lindell Yachts.
Inside Ocean Alexander's New 32E Luxury Superyacht
A full walkthrough of Ocean Alexander's new 32E superyacht.